Clarence Township, Calhoun County, Michigan - Email Address: Clarencetownship@yahoo.com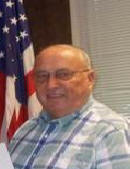 Pictured at right is Clarence Township Supervisor Robert Fisher.
Regular Township Meetings are held the second Monday of each month, at 7:00 PM at the Township Hall. Please Click on the News page for the minutes of the most recent Township Board Meetings.
---
Election Results - Clarence Township (This is Clarence Twp. Only)
| | |
| --- | --- |
| COUNTY WATER RESOURCES COMMISSIONER - | COUNTY COMMISSIONER 7TH DISTRICT |
| REP - Fred A Heaton 756 | REP- Gary Tompkins 685 |
| DEM - Christine Kosmowski 239 | DEM- Joyce J. Spicer 277 |
| Write in - 2 | Write - In 3 |
| | |
| CLARENCE TOWNSHIP SUPERVISOR | CLARENCE TOWNSHIP CLERK |
| Robert L. Fisher 829 | Sheryl A. Proteau 869 |
| Write - In 12 | Write - In 4 |
| | |
| CLARENCE TOWNSHIP TREASURER | CLARENCE TOWNSHIP OPERATION PROP. |
| Sue Ann Ott 746 | Yes - 329 |
| Write- In 12 | No - 644 |
| | |
| CLARENCE TOWNSHIP TRUSTEE (2) | |
| REP - Linda S. Kubiak 578 | |
| REP - Lisa Newsome 490 | |
| DEM -Walter Obrinske Sr. 492 | |
| NPA - Terese Bienz 250 | |
---
Pothole Reporting

Email is another way to report potholes to Supervisor Bob Fisher at Clarence Township. Just send an email to: clarencetownship@yahoo.com
---
Open Burning Ordinance
The Clarence Township Board enacted an Open Burning Ordinance at their meeting July 13, 2015. Please go to the:Township Services; page to see a link to the Ordinance
---
Senior Citizen Lunches!
Senior Citizen Lunches! Please join us for lunch every Monday, Tuesday and Wednesday. Blood pressure and chair exercises are done every Monday now. If you are 60 or over, the suggested donation is $1.50 Please call the Township Hall and let them know you will attend (We need one days notice.) People usually gather about 11 AM and lunch is served at 11:45.
---
Residential Property Check
The Calhoun County Sheriff's Department will check on your property while you are away on vacation, etc. Please click on the following link to see the form that you fill out and email or fax to the Sheriff's Department. Residental Property Check Form
---
Winter Property Taxes and Drain Assessments
Questions about Drain Assessments should be directed to the Calhoun County Water Resources Commissioner at 269-781-0790. Clarence Township has nothing to do with drains except to place them on the tax bills.
---
Please make use of your Clarence Township recycling operation.
It is easy to recycle newspapers, glass, magazines, cardboard, tin, and plastic every third Saturday of the month at the Township Hall parking lot. Please do not put items on the ground if the bin is full. As an alternative, an excellent recycling option, (open to anyone in Calhoun County) is free and located in Albion. Click on the following link for a full description: Albion Recycling
---
Cemetery Rules and Regulations
Go to the Township Services page for Clarence Township Cemetery Rules and Regulations.
---
Library Services Refund
Library Services Refund- Are You Aware? Residents of Clarence Township can receive a $20 refund upon presentation of a receipt of payment to join an adjoining Library. Just take your receipt to the Clarence Township Office. Limit one per year.
---
Freedom of Information Act (FOIA) Informaion
It is the public policy of the State of Michigan that all persons (except those persons incarcerated in state or local correctional facilities) are entitled to full and complete information regarding the affairs of government and the official acts of those who represent them as public officials and public employees. Please click on this link Township Services for more information about the Freedom of Information Act and to to get an appliation form.
---
Dog Licenses
Go to Township Services for notes from Sue Ott, Clarence Township Treasurer, concerning Dog Licenses (can be purchased at the Township Hall starting December 1st) and more.
---
Rental of the Township Hall
Residents of Clarence Township may rent the Township Hall based on availability. The cost is $150 of which $50 is refundable (damage deposit).