Clarence Township, Calhoun County, Michigan - Email Address: Clarencetownship@yahoo.com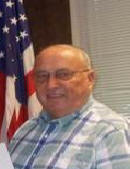 Pictured at right is Clarence Township Supervisor Robert Fisher.
Regular Township Meetings are held the second Monday of each month, at 7:00 PM at the Township Hall. Please Click on the News page for the minutes of the most recent Township Board Meetings.
---
Pothole Reporting

Email is another way to report potholes to Supervisor Bob Fisher at Clarence Township. Just send an email to: clarencetownship@yahoo.com
---
Clarence Millage Proposal - By Bill Taylor, Springport Signal 10/6/2016
---
Every Clarence Township resident has seen those posters that urge them to vote for or against a proposed new ½ mill tax proposal in November. This proposal would provide the Township with about $36,000 of additional operating funds in each of the next five years.

Clarence Township is requesting this additional money to pay for the large drain assessments that the Calhoun County Water Resource Commissioner has been levying on it in recent years. As an indicator of the problem, Clarence Township has historically had to pay drain assessments totaling $5,000 to $6,000 per year. However, the assessments rose to about $26,000 in 2014 and $29,000 in 2015.

These additional costs are more than the Township can absorb without additional revenue, and it has tried and failed to get them reduced. Our Township Supervisor and Township Auditor both wrote to the Water Resources Commissioner in 2016 requesting that the assessments be reduced because of the strain on our Township budget. However, they were told that the Commissioner has her own responsibilities and cannot give such assurances.

As a result, Clarence Township is understandably assuming that it needs to budget for annual drain assessments in the neighborhood of the 2014 and 2015 figures. This is why it is proposing a ½ mill increase in property taxes for five years.

If this proposal fails it will probably hurt a variety of Township programs and services. For example, Clarence Township has not been able to pursue the potential Turtle Cove preservation project that many of us want because drain assessments have soaked up the funds needed to leverage a State grant. In addition, the Township would simply not be able to pay for an unusually large number of fire and ambulance calls or certain other large, unexpected expenses.

I have a "Vote Yes" sign in my yard because I do not foresee any major decreases in the drain assessments that created the need for the proposal. The engineering fees being paid for these projects do seem high, but large potential savings get difficult after this. Drain costs could be reduced by eliminating the retention ponds and other features being included in projects to trap sediment, but this is not going to sell to residents at the receiving end of the discharge. And on and on the expenses go.

These are my personal views, and people with different ones can include them in a letter to the Signal or give them to me to incorporate in a column.

Finally, I should mention that Clarence Township's current special assessment of ¾ mill to purchase a new fire truck expires in 2016. In other words, if the ½ mill proposal discussed here passes, Township property owners would still receive a small net reduction in their 2017 property taxes.
---
Open Burning Ordinance
The Clarence Township Board enacted an Open Burning Ordinance at their meeting July 13, 2015. Please go to the:Township Services; page to see a link to the Ordinance
---
Senior Citizen Lunches!
Senior Citizen Lunches! Please join us for lunch every Monday, Tuesday and Wednesday. Blood pressure and chair exercises are done every Monday now. If you are 60 or over, the suggested donation is $1.50 Please call the Township Hall and let them know you will attend (We need one days notice.) People usually gather about 11 AM and lunch is served at 11:45.
---
Residential Property Check
The Calhoun County Sheriff's Department will check on your property while you are away on vacation, etc. Please click on the following link to see the form that you fill out and email or fax to the Sheriff's Department. Residental Property Check Form
---
Winter Property Taxes and Drain Assessments
Questions about Drain Assessments should be directed to the Calhoun County Water Resources Commissioner at 269-781-0790. Clarence Township has nothing to do with drains except to place them on the tax bills.
---
Please make use of your Clarence Township recycling operation.
It is easy to recycle newspapers, glass, magazines, cardboard, tin, and plastic every third Saturday of the month at the Township Hall parking lot. Please do not put items on the ground if the bin is full. As an alternative, an excellent recycling option, (open to anyone in Calhoun County) is free and located in Albion. Click on the following link for a full description: Albion Recycling
---
Cemetery Rules and Regulations
Go to the Township Services page for Clarence Township Cemetery Rules and Regulations.
---
Library Services Refund
Library Services Refund- Are You Aware? Residents of Clarence Township can receive a $20 refund upon presentation of a receipt of payment to join an adjoining Library. Just take your receipt to the Clarence Township Office. Limit one per year.
---
Freedom of Information Act (FOIA) Informaion
It is the public policy of the State of Michigan that all persons (except those persons incarcerated in state or local correctional facilities) are entitled to full and complete information regarding the affairs of government and the official acts of those who represent them as public officials and public employees. Please click on this link Township Services for more information about the Freedom of Information Act and to to get an appliation form.
---
Dog Licenses
Go to Township Services for notes from Sue Ott, Clarence Township Treasurer, concerning Dog Licenses (can be purchased at the Township Hall starting December 1st) and more.
---
Rental of the Township Hall
Residents of Clarence Township may rent the Township Hall based on availability. The cost is $150 of which $50 is refundable (damage deposit).